In this article you will learn how to connect with other Tredict athletes, get insights into their training log and how to create or change other athletes training plans.
Tredict offers you the possibility to get access to the training details and the training log from other Tredict athletes or to share your own training calendar with other Tredict athletes.
This can be done, for example, because:
You have friends or acquaintances on Tredict and want to share your activity and profile.
You are an athlete who is looking for support from a coach.
You are a coach yourself who wants to create workouts for others, who adjusts and creates training plans and who wants to use Tredict as a trainer platform.

In Tredict jargon, you are a coach when you get access to another athlete's profile, whether or not you actually have a coaching job. So if you get access to the profile of a friend, you are her coach, even if you don't create training sessions for her, but just look at what she does. So it's that easy to become a coach. :)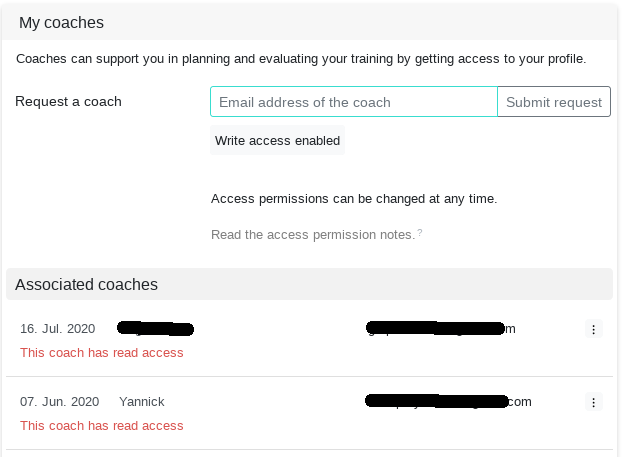 To invite a coach to your profile, go to the settings and enter their email address. The coach will then be sent an invitation and can accept it, provided he or she has activated as a coach before.
As an athlete, you can decide at any time whether you want to give a coach (or a friend) read-only access to your profile or allow write access as well.
If you only allow read access, the athlete you have invited still has the opportunity to gain insight into your training behavior. The evaluation, your training calendar, the training details, your form, your body data and your equipment list are still visible and can serve as a basis for discussion.
If you allow write access, you give the connected coach almost all the rights you have on your own profile. This means, among other things, that the coach has the possibility to pre-plan your training sessions for you. So you can grant write access if you want the coach to create a training plan for you and you have confidence in the person.
You can deactivate the coach mode in the category Connections. With deactivated coaching nobody can contact you as a coach anymore and you will not receive any messages from other athletes. Even if you have activated the coach mode, you are responsible for making your email address known to other athletes so that they can invite you. Tredict has no public list with available coaches.

When connecting to other users, there are a few things to consider as a platform operator from a data protection point of view.
The email address of a coach must not be disclosed without being asked.
A user may not receive coach requests even though he or she does not want to be a coach.
Users must have full control over their coach connections at all times.
The settings and account details of the connected athlete are not visible.
A coach must not delete any files of the athlete uploaded by devices, as this is an irreversible action.
A coach is not allowed to upload device files to the athlete profile as this could lead to irreversible falsification of the profile.
The coach is not allowed to create any equipment for an athlete as there is no revision model for this and this is also irreversible.
As an athlete you retain control over your own profile.
If you are a coach and you are successfully connected with other athletes, you can select an athlete from your athlete list. You will continue to use Tredict as if it were your own profile, with the difference that it is the profile of the selected athlete that you see in front of you.
You can tell whether you have just selected an athlete by the fact that the upper menu bar is highlighted in green and the name of the selected athlete appears in the selection menu.

As a coach and of course as a normal athlete, you can create an activity in advance or add it manually later. If it is a recurring training, e.g. once a month, with always the same intervals, then it is a good idea to save this training as a template.
The stored activity template can be selected when you create a new training activity. This allows you to quickly create a complete training plan, your pre-planning is quickly set up and work is saved.
As mentioned above, as a coach you cannot delete uploaded workouts of an athlete. A malicious coach could thus destroy the athlete's training history or an accidental deletion could quickly lead to an oops-situation. Uploaded workouts are .fit and .tcx files or rough, everything that comes in via Garmin Connect, Polar Flow and Suunto.
The athlete profile is displayed in the way you as a coach have configured your charts. So you see not the diagram configuration of the connected athlete, but your own.
The Zone Priority Chain is also the one you as a coach have configured in your settings. Accordingly, you will be shown the efforts. However, the shape curve is the same for athlete and coach and follows the zone priority of the athlete.
As a "coach athlete team", you can communicate via the message and chat function and exchange information about a training session.
With a click on the chat icon, which you can find in the training details view, you as a coach can initiate a dialog. This reduces the feedback loop and the actual comments on a specific training are separated from other training instructions.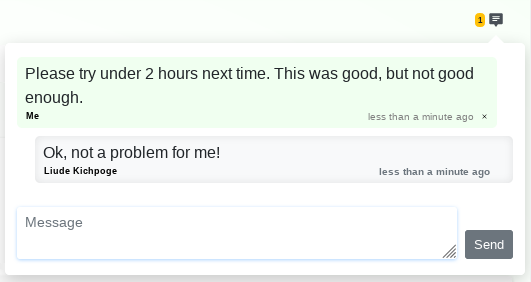 Tip: Send a message directly with the key combination Ctrl + Enter.
The message function can be disabled globally as an athlete or only for specific coaches. If you do not want to receive chat notifications by email, you can also turn this off.
Since the Tredict model only requires a payment for the 12 month write access of the own athletes profile, the coaching is always free of charge, since it can be done even if the own profile has only read access. In this context, however, it is important to know that the athlete to be coached must have write access to his/her profile so that the coach can also write to this profile. With Tredict you have the possibility to use a free coaching software for endurance sports.
Guido about the coaching function:

Tredict inspires me as an athlete and especially as a trainer and coach by its logical structure and its many evaluation possibilities, without being overloaded. I am fascinated by the constant and fast development of the software. Privacy and data protection are important to me and here, again, Tredict stands out positively against competitors, also with a simple, unproblematic possibility to test it for 3 months free of charge and to be able to cancel the account yourself. Since Tredict, the "Excel" exchange with my athletes is a thing of the past. If you want to support friends, acquaintances or colleagues as a trainer, Tredict is a suitable, uncomplicated and inexpensive tool.
composed at 8/2/2020, 10:10:29 PM by Felix Gertz