Schedule your workouts in Tredict and execute them on your Coros watch.
Tredict has now closed the loop for Coros users and integrated the "Coros Training API".
This way your structured workouts planned in Tredict will automatically be transferred to a training plan in Coros.
This makes it possible to run and track your Tredict training calendar on your Coros device.

Tredict training calendar
→
↓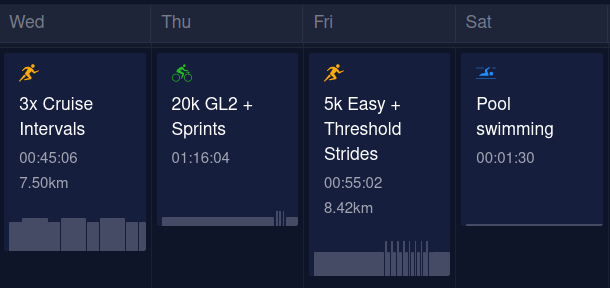 Coros training calendar
Automatically upload workouts planned in Tredict to a training plan at Coros.
Synchronisation of planned workouts with your Coros sports watch.
You can find the workouts synchronised with Coros in the Coros Training Hub under the training plans. Your Tredict training plan is therefore simply called Tredict Training Plan. This training plan contains the workouts that you have created in your Tredict training calendar. Simply use this training plan in Coros to execute your planned workouts on your Coros watch.
In the Coros App you will find the Tredict training plan under "Profile" -> "Training Plan Library". Similarly, in the Coros Traininghub, you will find the training plans under "Calendar" -> "Trainings Plans". The category "Training Plans" is hidden behind a fold-out tab on the right side of the screen.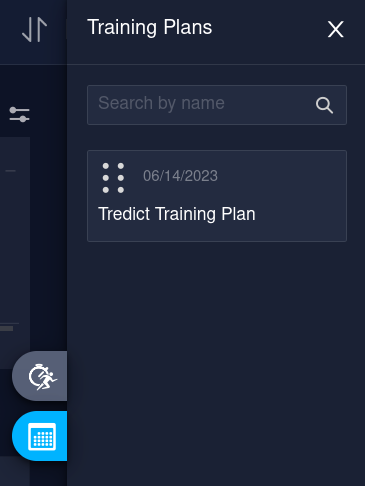 Coros Training Plan Library in the Training Hub
Tredict always synchronises the next 7 days of your planned workouts to Coros. The synchronisation is triggered when a workout is changed and also automatically every 3 hours, so that the training plan at Coros is always up to date with your Tredict calendar.
Coros supports the following Tredict sports for synchronisation with the Coros training calendar.
The "Coros Training API" has slightly reduced support for sports. Other workouts, such as mountaineering or hiking, are not supported.
You can generally specify speed, heart rate, cadence and wattage as target zones for your sections when planning your training.
Please specify the target zone explicitly in the section setting so that it appears as such on the watch.
To activate the automatic synchronisation with the Coros training calendar, this item must be activated in the settings.
If you have been connected to Coros for a long time, you may have to activate it later.
To do this, go to the category Settings -> Services and click on the button "Synchronisation of scheduled trainings with Coros" in the card "Synchronisation of scheduled trainings is deactivated".iviert".

Synchronisation settings in the category "Settings->Services".

If you delete a planned workout in Tredict, it cannot be removed from the Coros workout plan at the moment. This is a limitation of the Coros API and will be improved by Coros in the future.

composed at 6/14/2023, 4:28:39 PM by Felix Gertz