Plan your indoor cycling training in Tredict and perform it with the icTrainer indoor cycling app.
icTrainer is an indoor roller trainer app for cyclists and triathletes that allows you to do your indoor roller training effectively.
The app is available for Android, iOS and also Windows and MacOS. Bluetooth smart trainer are supported, e.g. from Tacx, Wahoo, CycleOps, Elite and more. icTrainer is developed by Philipp Hoffman.
Plan your training sessions in Tredict as usual, which are then automatically available in icTrainer and can be performed on the roller. After the work is done, the completed training is automatically uploaded to Tredict.
For the connection of icTrainer and the training planning via Tredict for the indoor cycling app, you can watch this tutorial video provided by icTrainer: icTrainer - Analyse and plan your indoor bike training with Tredict
The connection is approved by you from the icTrainer app by being directed to the Tredict page and generating an access token for icTrainer by entering your access data. This can be revoked at any time in Tredict. With this access token, icTrainer then has personalised access to the Tredict API. If you have already connected to Garmin Connect and Polar Flow, you already know this authentication mechanism.
What I personally like about icTrainer is the reduction to pure functionality, without any attempt to "gamify" the training. The app does what I expect and does it effectively; it controls the roller trainer based on wattage and returns my performance data such as wattage, speed and heart rate. This is also the slogan of icTrainer: "Just train - no game.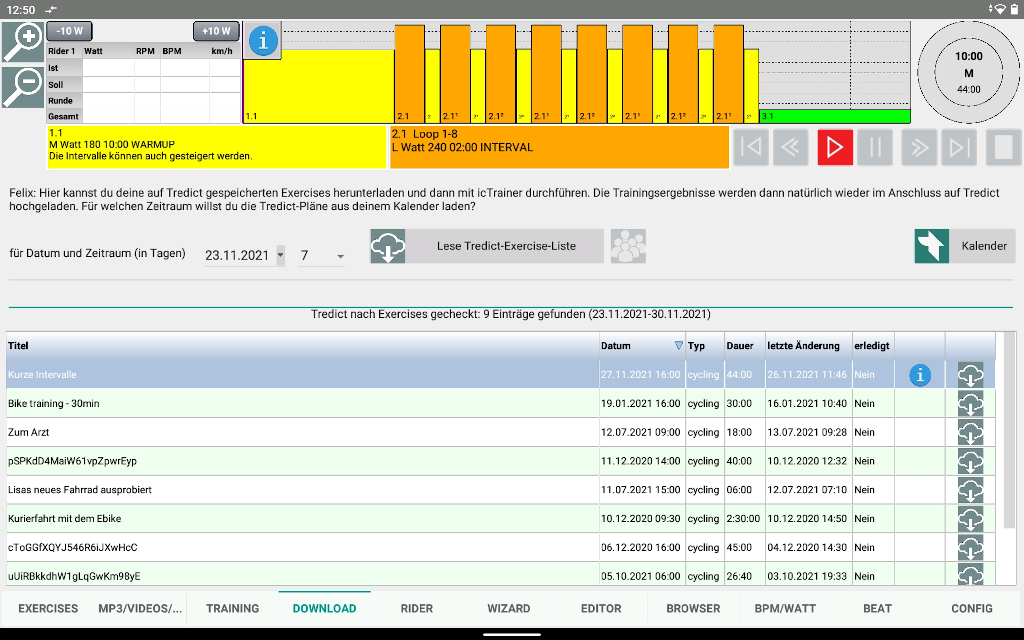 A cycle training session planned in Tredict according to wattage is displayed in icTrainer.

composed at 11/28/2020, 9:46:46 AM by Felix Gertz