The feature review summarises the most important innovations of the last few months.
Of course you can always have a look at the changelog:
Changelog
There is also an RSS feed for the changelog, which you can subscribe to with a feed app.
This way you always get all the changes on your phone.
RSS Feed Changelog
Change sport
Finally, you can change the type of sport, including the variant. You can now simply turn an outdoor rowing training session into an indoor "rowing on the machine" afterwards.
This was probably the most requested feature, although it was not entirely trivial to implement internally.
Cycling has little to do with swimming training. But that's exactly what you can now change if necessary!
Many thanks to you for this great feature request.

Comparison of planned with executed segments and training sessions
You can add your planned segments to the series chart of your training session and overlay them on top of each other.
You can now see at a glance what you have planned and what you have actually done.
In the section view you can also switch between "planned" and "executed". Many thanks to Martin for this great feature request.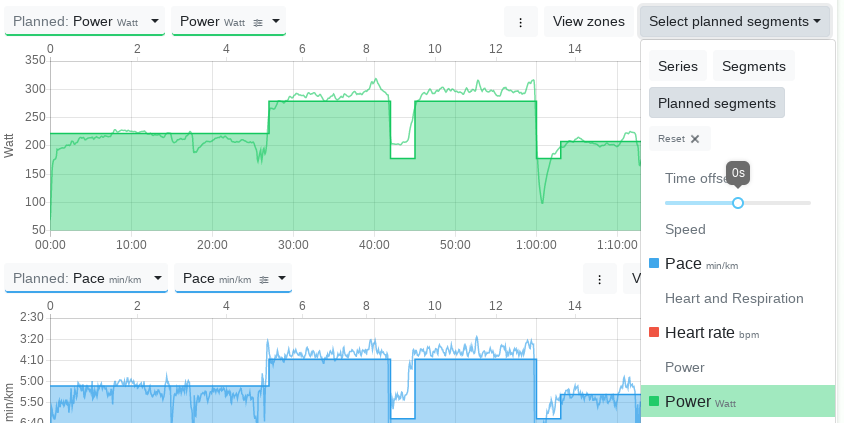 As a coach: Create a training session for several athletes at the same time
Create a planned workout for several athletes at the same time. This helps if you are cycling in a group or planning a club workout.
By clicking on the down arrow on the "Create training" button, the list of athletes you can select will open.
Many thanks to Gilles for this great feature request.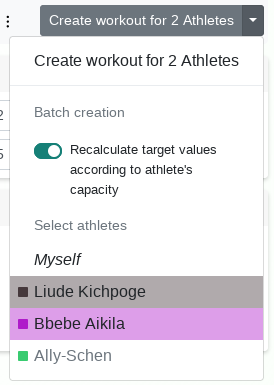 Automatic recalculation of planned training sessions after capacity change
If you change your capacity, e.g. your maximum heart rate, or create a workout for another athlete who does not have the same capacity as you, then the values of the planned workout are recalculated based on the corresponding capacity.
So a relative heart rate of 70% always stays at 70%, no matter which athlete is selected.
Many thanks to Angel for this great feature request.

Move period with training sessions
Move several planned training sessions at once. You have 10 training sessions planned in advance, but don't want to change the date of each one? No problem. Move the first training session in the calendar view that marks the period you want to move and enter a whole period to be moved.
Many thanks to Yannick for this great feature request.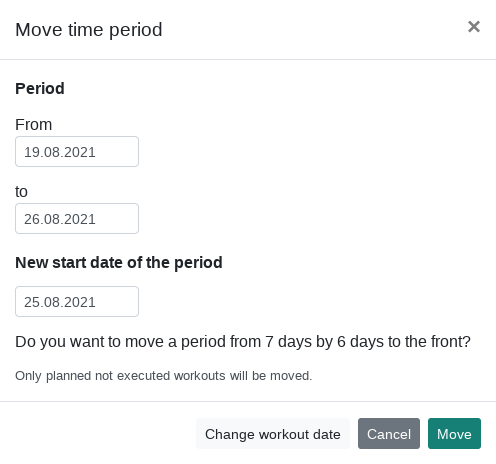 Polar JSON to FIT Converter
The Polar Flow Exporter gives you a bunch of .json files. These are your training sessions. What to do with them? With the JSON to FIT converter you can now convert them to the popular FIT format or upload them directly to Tredict. This way you can upload your Polar training history almost anywhere.

Many thanks to Daniel for this great feature request.




composed at 10/4/2021, 4:02:14 PM by Felix Gertz