Garmin Training API integration - Automatically synchronize workouts scheduled in Tredict with Garmin Connect and integrate them into the Garmin training calendar.
Tredict has now come full circle for Garmin users by integrating the "Garmin Training API".
This way, if you want, your workouts planned in Tredict will be automatically transferred to your calendar at Garmin.
This makes it possible to seamlessly run and track a training plan on your Garmin device.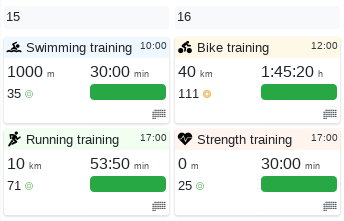 Tredict workout schedule
→
↓

Garmin workout schedule
FAQ knowledge
What is the difference between an automatically uploaded scheduled workout and a workout FIT file?
Automatic upload of workouts planned in Tredict to the "Garmin Connect Calendar".
Synchronization of scheduled workouts with your sports watch.
Tredict supports the following sports for synchronization with the Training API.
Running
Cycling
Lap or pool swimming
Other activities (weight training, hiking, etc.)
The "Garmin Training API" has a slightly reduced support of sports. Thus, no open water swimming is supported by the API. Open water swimming is treated as a "Other activity" when synchronizing.
However, it is possible to manually export an open water swim workout as a FIT file to the Garmin watch.
You can generally specify speed, heart rate, cadence, and wattage as target zones for your sections when planning your workouts. However, depending on the type of sport and the type of device, some target zones may not work. For example, the wattage is ignored as a specified target zone for a swim workout.
Please specify the target zone explicitly in the segment setting so that it appears as such on the clock.
To enable automatic synchronization with the "Training API", this must be enabled in the settings.
If you have been connected to Garmin Connect for a while, you may have to activate it afterwards.
Go to the category Settings -> Services and click on the button "Synchronization of planned workouts with Garmin Connect" in the card "Synchronization of planned workouts with Garmin Connect".

Synchronization settings in the "Settings->Services" category.

If you have turned off syncing in Garmin Connect, you will be asked to reconnect to Garmin Connect and allow syncing of scheduled workouts. Alternatively, you can also make this setting directly in Garmin Connect under the item "Data shared by the Tredict app with Garmin Connect".

composed at 2/5/2021, 12:28:39 PM by Felix Gertz