Activity planning
Plan or add an activity
You can plan a future activity or add a training that has already been done. 
Training planning is an essential part of form curve prediction and allows you to fine-tune your training efforts and intensities, e.g. when you want to plan ahead for a competition. A manual activity appears, just like an uploaded activity, with the calculated values in the form curve and in the analysis. 
Read the blog article: Plan and create a training
However, a planned training must be confirmed again when the training date has passed, otherwise it is considered missed and no longer appears in the evaluation. If you have uploaded a fulfilled training and it matches a scheduled training, then the planned training is automatically covered, but can be uncovered again by a manual confirmation.

A scheduled training can be saved as a template to be reused if necessary. Training templates can help you develop your training plan.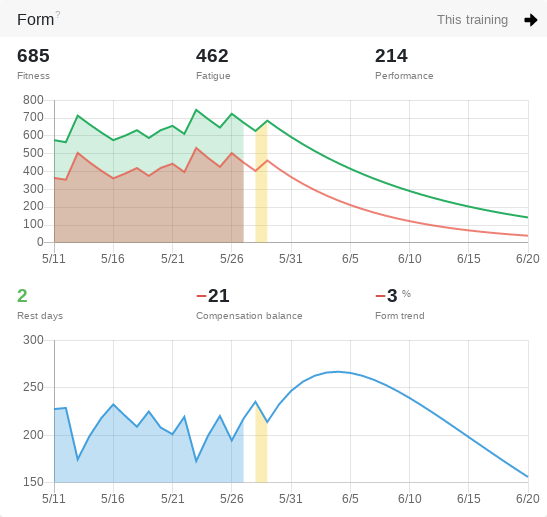 The training can be planned through segments that you can define yourself. For each segment you can enter the desired values for pace, heart rate, power and cadence.
Depending on what you have entered and how the zone priority is selected in the settings, the effort for the planned activity is then calculated. The length of a section or segment can be defined by time or distance. 
By grouping several segments, you can have them repeated to create interval workouts.
If you click on one of the colored zone arrows, you can enter a predefined value based on your zone model.